Mossy Oak Properties, Inc. is pleased to announce that Alabama land broker Dale Walker of Mossy Oak Properties Alabama Land Crafters in Pike Road, Alabama, received its prestigious "Fox Haas Award" at the company's recent Land Summit, held on June 6-8, 2022.
The Fox Haas Award, named after the iconic patriarch of the Mossy Oak brand, recognizes a member of the Mossy Oak Properties network that was nominated by their peers for possessing characteristics such as honor, integrity, and a servant's heart.  Walker, whose company has been an integral part of Mossy Oak Properties since 2010, was deeply honored by the award.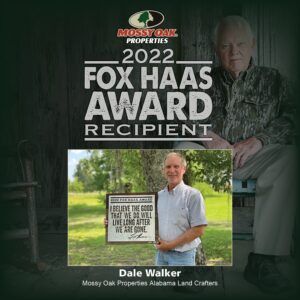 "Mr. Haas long ago set the standard for genuinely caring for his fellow man and nature that has been the guiding principle throughout Mossy Oak's and Mossy Oak Properties' long and impactful existence," said Walker. "The Mossy Oak companies are a reflection of that commitment which creates a never ending cycle of each caring person in the organization encouraging the good in all of the other people in the organization which in turn encourages more good. We are all thankful to be connected in a small way to Mr. Haas coattails, and hope we can maintain the same consistency that has embodied him positively impacting all people he has come in touch with his whole life. With the character and spirit of our team I am confident that his example will continue to be passed on."
"Each year, the Fox Haas Award displays how blessed we are at Mossy Oak Properties to work alongside such great people," said Chris Hawley, CEO/President and Co-Founder of Mossy Oak Properties.  "Dale Walker exemplifies all that we've strived to build our foundation upon: honesty, integrity, and a servant's heart.  His teams' character reflects that, and he takes more pride in others' successes than his own.  We see so much of Mr. Fox in Dale, and he is a very deserving recipient of this years' award."
Dale Walker can be reached via email at dwalker@mossyoakproperties.com and via cell at (334)-202-8300.
The Mossy Oak Properties land brokerage network was launched in 2003 and has since grown to over 100 franchised brokerages in 30 states throughout the country, with our network completing 4,900 transactions totaling $1.4 Billion+ in sales volume for 2021. For more information, visit www.mossyoakproperties.com
Each Mossy Oak Properties office is independently owned and operated.