Mossy Oak Properties, Inc. is pleased to announce that Arkansas land broker Pam Welch of Mossy Oak Properties – Strawberry River Land and Homes was named its "Agent of the Year" at the company's recent Land Summit, held June 6-8 in Starkville, Mississippi.
The Agent of the Year award is given annually to the salesperson that has the highest sales volume of the course of the year out of the Mossy Oak Properties network, which currently represents over 650 land specialists.  The award, which was for the 2021 sales year, was the second consecutive Agent of the Year award for Welch, who was also nominated for the award in 2018 and 2019, in addition to amassing 19 Pinnacle Club quarterly recognitions.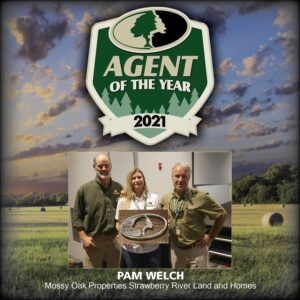 "I am truly blessed to have clients that appreciate the job I do for them and refer me to family, friends and even strangers," said Welch.  "It warms my heart that they think of me.  I live in the small town of Cave City, Arkansas, which is home to the world's sweetest watermelons and some of the hardest working farmers around!  I feel this is the best place in the world to live.  You wake up on crisp cool mornings in the summers to heating up by 10 but cooling down again by evening.  It is not hard for me to tell people when they ask about my area if it is a good place to live; I love my community!"
She continued by saying: "I work 7 days a week alongside my husband and my son.  I love moving people here to our community and I think this proves it!  Whether I am selling or helping someone purchase row crop bottom ground, a house and 40 acres, to a house in town, I take pride in helping my clients.  This is an amazing award that I have received in both 2020 and 2021 and I don't even know what to think other than hard work pays off.  I always strive for the highest level of service for my clients and work each and every day with maximum effort!  With the Mossy Oak Properties brand behind me I feel like I can sell anything.  This brand is nationwide and ran by some of the world's best people!  This is my family!"
Chris Hawley, CEO/President and Co-Founder of Mossy Oak Properties, added: "Winning Agent of the Year requires extreme work ethic, attention to detail, and a great rapport with clients. For Pam to repeat as Agent of the Year winner in a year that saw sales grow 50% across the network shows her acumen as a land specialist only grows, and she will continue to be a factor in this award for years to come.  We are so grateful for what she does and more importantly how she does it.  She's a great example of how treating people right and focusing on the clients' needs will always pay dividends."
For more information, Pam Welch can be reached by phone at or (870) 897-0700 via email at pwelch@mossyoakproperties.com.
The Mossy Oak Properties land brokerage network was launched in 2003 and has since grown to over 100 franchised brokerages in 30 states throughout the country, with our network completing 4,900 transactions totaling $1.4 Billion+ in sales volume for 2021. For more information, visit www.mossyoakproperties.com
Each Mossy Oak Properties office is independently owned and operated