A joint effort between Mossy Oak and Mossy Oak Properties, Inc. has recently contributed a total of $30,000 for the mission of Catch-A-Dream, a charitable organization which provides children with life-threatening illnesses meaningful outdoor experiences.  The donation was presented on September 25th, 2020 in conjunction with Mossy Oak Properties' National Day of Conservation.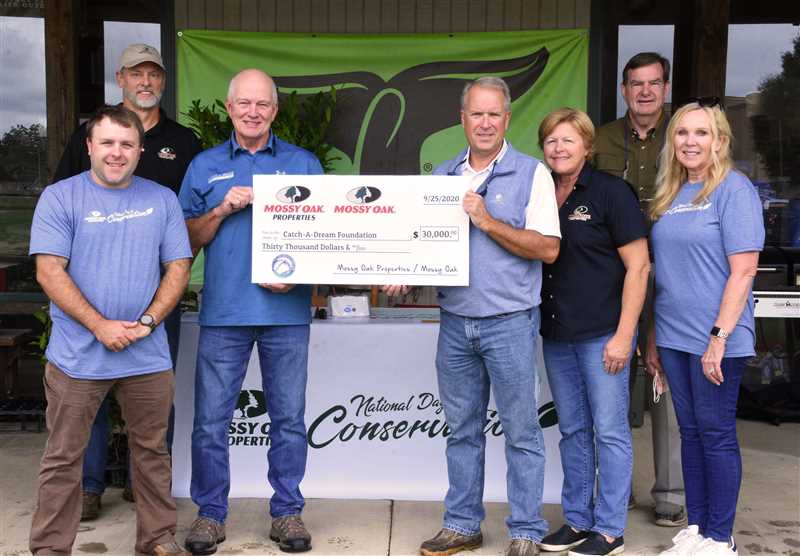 Founded in 2000, Catch-A-Dream has given 697 children in 46 states an all-expense paid outdoor experience of a lifetime. Catch-A-Dream has been one of three benefactors for the Mossy Oak Properties Fox Hole Shootout, which was not held in 2020 due to COVID-19 despite raising over $450,000 the past three events.
Dr. Marty Brunson, CEO of Catch-A-Dream, said, "Our relationship with the Mossy Oak family goes back to day one of Catch-A-Dream, and we are grateful for their long-time loyalty and support.  All our event-based fundraising has been either canceled or put on hold this year.  Our largest Fall banquet is going virtual , and this generous and timely Fox Hole Shootout commitment provides new opportunity to leverage donations through a donation match challenge."
Chris Hawley, CEO/President and Co-Founder of Mossy Oak Properties stated: "At Mossy Oak and Mossy Oak Properties, we are very passionate about Catch-A Dream, and their mission to bring joy to precious children with life-threatening illnesses, and as importantly joy to their families.  In these challenging times, ensuring this organization can maintain their charge of that mission is important to us.  We hope our contribution will allow this great organization to serve these special children and their families for many years to come."
The 2021 Fox Hole Shootout will be held Thursday, June 10th in West Point, Mississippi. For more information on sponsoring or participating, visit www.foxholeshootout.com.
For more information on Catch-A-Dream, visit www.catchadream.org.
The Mossy Oak Properties land brokerage network was launched in 2003 and has since grown to over 100 franchised brokerages in 29 states throughout the country, with our network completing 3,500 transactions totaling $750M+ in sales volume for 2019. For more information, visit www.mossyoakproperties.com.