Mossy Oak Properties, Inc. is pleased to announce the members of its 2020 3rd Quarter Pinnacle Club. The Pinnacle Club recognizes the top ten land sales professionals each quarter from a network of more than 600 agents and brokers across 29 states.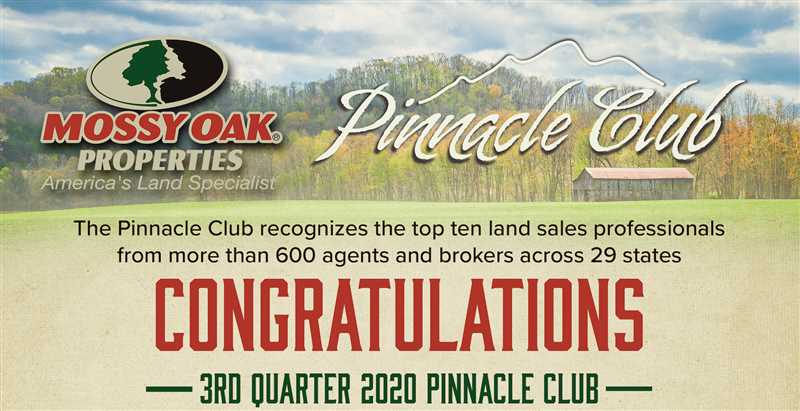 Chris Hawley, CEO/President and Co-Founder of Mossy Oak Properties, Inc., stated: "We are excited to recognize some of the nations' top land specialists through our Pinnacle Club. Our land sales professionals are an integral part of our network, and their consistent success speaks volumes as to the caliber of people and professionals they are. We congratulate them on this prestigious honor."
The 2020 3rd Quarter Pinnacle Club honorees are:
Pam Welch-Mossy Oak Properties Strawberry River Land and Homes (Cave City, Arkansas)
Billy McOwen-Mossy Oak Properties Land and Farms Realty (Manteo, North Carolina)
Jon Adams-Mossy Oak Properties Mountain Ranch & Home Brokers (Salida, Colorado)
Tom Sullivan-Mossy Oak Properties Tennessee Land & Farm (Franklin, Tennessee)
Bob Regester-Mossy Oak Properties Colorado Mountain Realty (Divide, Colorado)
Ree Beavers- Mossy Oak Properties Wyoming Outdoors (Dubois, Wyoming)
Jon Collins-Mossy Oak Properties Bauer Real Estate (Frazeysburg, Ohio)
Linda Francis-Mossy Oak Properties Mozark Land and Farm (Mountain View, Missouri)
Julie Mansfield Smith-Mossy Oak Properties Cupper Creek Land Company (Kimberly, Oregon)
Dale Walker-Mossy Oak Properties Alabama Land Crafters (Pike Road, Alabama)
The Mossy Oak Properties land brokerage network was launched in 2003 and has since grown to over 100 franchised brokerages in 29 states throughout the country, with our network completing 3500 transactions totaling $750M+ in sales volume for 2019. For more information, visit www.mossyoakproperties.com.