Mossy Oak Properties-Bottomland Real Estate, a full-service rural land brokerage based in West Point, Mississippi, is pleased to announce it has added a Clarksdale, Mississippi location.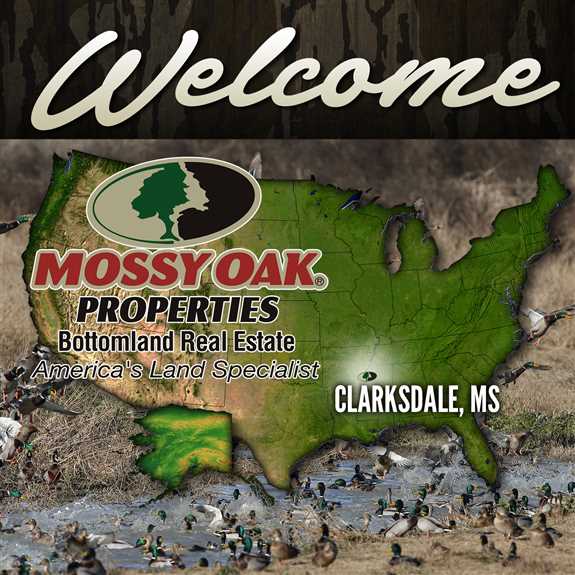 According to Broker/Owner Fred Zepponi III, a native of Clarksdale, the Clarksdale location will complement his teams' successful West Point, MS brokerage. "We look forward to establishing some strong roots in the Mississippi Delta Region. We are the only national real estate company to have an office in the North Mississippi Delta. We specialize in selling recreational, timber and agricultural properties in Mississippi and Alabama. The team in the Clarksdale office includes, Managing Broker Skip Graeber, Agent Darrell Bullock, and Agent Scott Stribling. This group brings a combination of extensive MS Delta real estate experience, excellent connections, a passion for land and the MS Delta Community at large. In my opinion this gives them an advantage over out of market real estate agencies when it comes to representing clients."
Skip Graeber, the managing broker of Mossy Oak Properties-Bottomland Real Estate, Clarksdale stated, "Currently the agricultural market for farmland is at historical high values. Many factors are in-play, such as low interest rates, desire for safe investments with appreciation of assets, and an increase in revenues and crop yields, despite static commodity prices. I have been impressed by the platform and the personnel of Mossy Oak Properties. I look forward to leveraging their brand strength and values into relationships with, and service to, folks throughout the Delta needing our expertise to help them buy or sell land."
Chris Hawley, CEO/President and Co-Founder of Mossy Oak Properties, Inc. added his excitement by saying: "The Mississippi Delta is one of our nations' strongest rural and recreational land markets, and an area our brand is revered. With Fred and his teams' efforts, we can capitalize on this opportunity to further entrench ourselves as the preferred land specialists through the state of Mississippi. The Clarksdale team knows the Delta, and understands the level of service and professionalism needed in todays' market. We have the utmost confidence in their probability of success."
For more information on Mossy Oak Properties-Bottomland Real Estate call (662)-418-6767 or email fzepponi@mossyoakproperties.com.
The Mossy Oak Properties land brokerage network was launched in 2003 and has since grown to over 100 franchised brokerages in 29 states throughout the country, with our network completing 3,500 transactions totaling $750M+ in sales volume for 2019. For more information, visit www.mossyoakproperties.com.