Mossy Oak Properties, Inc. is pleased to announce that Jon Collins of Mossy Oak Properties – Bauer Real Estate Company in Frazeysburg, Ohio was named its "Agent of the Year" at the company's recent virtual Land Summit, held June 24, 2020.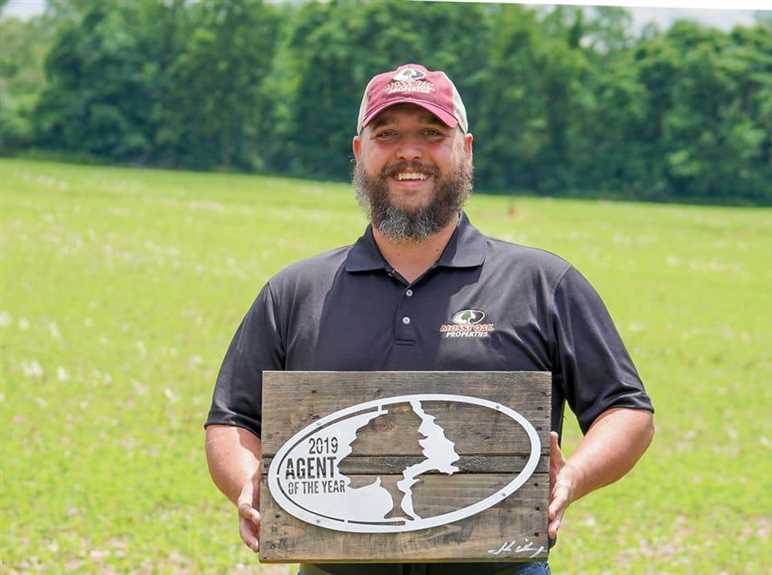 The Agent of the Year award is given annually to the salesperson that has the highest sales volume of the course of the year out of the Mossy Oak Properties network, which currently represents over 650 land specialists.  The award, which was for the 2019 sales year, was the first Agent of the Year award for Collins, who was nominated for the award in 2014 and 2018, in addition to amassing 14 Pinnacle Club quarterly recognitions.
"I am utterly shocked to have been named the Mossy Oak Properties Agent of the Year. I am so honored and blessed beyond words could ever describe. I am so happy and proud to be part of the Mossy Oak Family. Thank you from the bottom of my heart for this award, it means more to me than I could ever express," Collins stated.
"Created to recognize the highest producer in the network, the Mossy Oak Properties Agent of the Year award annually recognizes the agent or broker that has the highest yearly sales volume," stated Chris Hawley, CEO/President and Co-Founder of Mossy Oak Properties.  "This award is indicative of the agent who not only understands land, but one that also carries the banner of our brand in a manner that allows them to be successful.  Jon Collins is a very deserving recipient of our highest individual honor, and we are very excited about him winning this prestigious award." 
For more information, Jon Collins can be reached by phone at or (614) 419-3924 via email at jcollins@mossyoakproperties.com.
The Mossy Oak Properties land brokerage network was launched in 2003 and has since grown to over 100 franchised brokerages in 28 states throughout the country, with our network completing 3500 transactions totaling $750M+ in sales volume for 2019. For more information, visit www.mossyoakproperties.com.
Each Mossy Oak Properties office is independently owned and operated