ndrew Walters | Originally published in GameKeepers: Farming for Wildlife Magazine
GameKeepers use a plethora of tools, gadgets, machines and implements to get our jobs done. From spraying plots during the summer, to hunting in the fall, to woods work in the winter, it's safe to say we use our fair share of gear. Most outdoorsmen rely upon some sort of off-road vehicle (commonly known as an ORV) as one of their most important means. Whether it's used to actually do the work or get you to where the work will be done, an ATV can be relied upon immensely. The popularity of "side-by-side" vehicles has changed the ORV world. There are unlimited possibilities when it comes to using these vehicles, but choosing the style and model that works best for your practical applications can be more difficult than some imagine. Here are a few tips on choosing correctly so you get the most out of your ORV.
ATV VS. SIDE-BY-SIDE
PROS AND CONS OF ATVS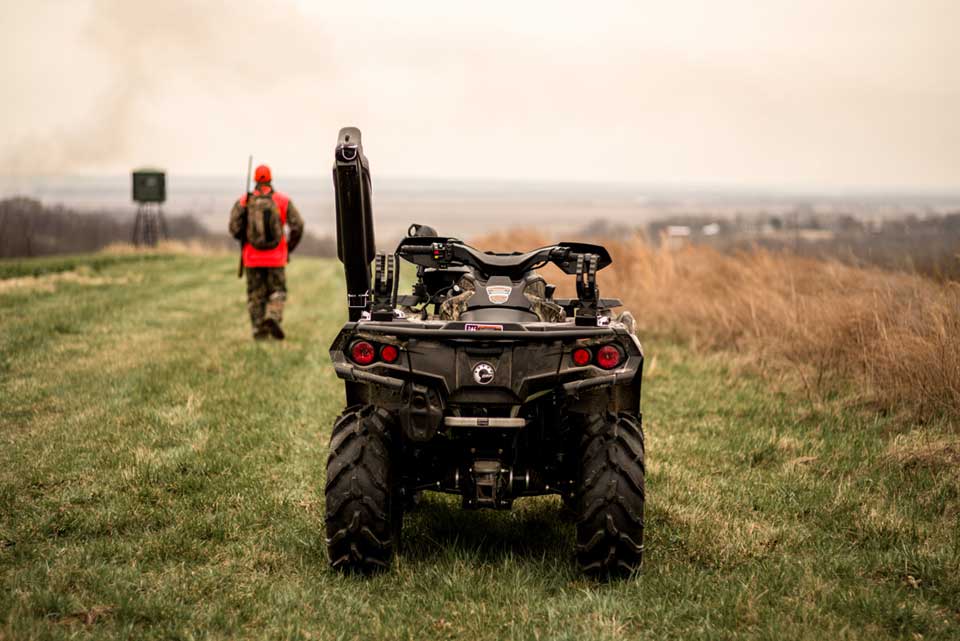 In order to understand what works best for your needs, you must understand the pros and cons of each style of off-road vehicle. All-terrain vehicles (ATVs), typically known as quads or four wheelers, have been around for years. They're easy to load on trailers and can even fit into the bed of most trucks. They are ideal for the lone outdoorsman who wants to travel paths with ease.
Discs and sprayers can easily be attached to the hitch system on the machine and are great for getting into tough-to-reach areas, small plots, and hunting areas. When equipped with a winch, there aren't many places you can't reach. The majority of these ATVs can be purchased for less than a side-by-side. Most models have low gears which are great for pull-behind mowers and towing heavy implements.
However, these machines lack the potential to carry more than one rider safely and are prone to accidents if the rider is not trained and doesn't drive cautiously. The fact there is no roll bar, seat belt, or windshield (on most models) means anything you are hauling, including yourself, is open to the elements. Unless a trailer is used, the storage is also limited so choosing only what is absolutely necessary for the task at hand is imperative.
PROS AND CONS OF SIDE-BY-SIDE (SXS)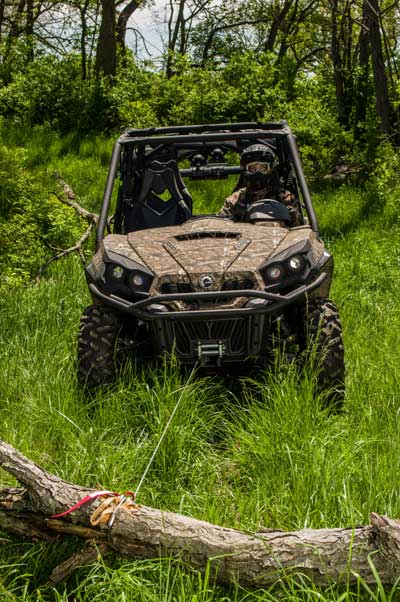 What started out as a "glorified golf cart" has now evolved into seriously tough machines that are designed to take you and plenty of gear just about anywhere. There are a few reasons why their popularity has exploded.
First and foremost, they are driven like a vehicle rather than a bike. The suspension tends to ride smoother than most ATVs and there is a possibility to carry more gear and accommodate more riders. There are SxS models made for two riders, four riders, and some newer models that will hold five riders and that includes a bed space used for hauling gear.
Most models feature a dump bed that tilts upwards to assist in unloading whatever you're hauling. The use of seatbelts, roll bars, protective nets, windshield, and doors (on some) makes the riders much less exposed to the elements than when riding a traditional ATV, and arguably safer.
As with ATVs there are some cons to the SxS vehicles, the price range for one. It's not unusual for a new SxS to cost a few thousand over an ATV. The cost is increased even more with higher-end models made to accommodate more riders and haul more gear. A SxS that will do what most outdoorsmen need will typically run over $10,000 when purchased new.
Side-by-sides are also wide and heavy. A trailer is a necessity. A winch is a requirement due to the fact SxSs are heavy and once stuck, you cannot move it without that little extra help. You may also be limited on some trails as well. Typically ATV paths tend to be narrower than what the average SxS needs to travel. You may have to widen some of the paths on your property before riding a SxS down ATV trails if you would like to avoid getting beaten up by branches and low-lying limbs.
REAL WORLD APPLICATIONS FOR ATVS AND SIDE-BY-SIDES
Purchasing a new ORV is no different than purchasing a new car or truck. There are sport and utility models, 4WD and AWD capabilities, and more accessories than you could ever need or use. This is why it's important to understand what will fit your needs before shopping for an ORV.
All-wheel drive (AWD) consists of a drivetrain that employs a front, center and rear differential that provides power to all four wheels, whereas a 4WD model consists of a drivetrain that has two differentials and a transfer case that provides power to all four wheels. Most ORVs can be ridden in 2WD and switched over into 4WD or AWD when necessary.
The engine size of the vehicle is also important. The number associated with the ORV relates to the displacement volume of the engine cylinders. So a 1,000 cubic centimeters model is larger than a 700 CC engine by the same manufacturer. This typically results in higher output, more towing capacity and overall power. The same applies with ATVs. A 500 CC engine will not have the power and the towing ability an 850 CC engine would.
Bigger is not always better as the price increases with the engine size. You can decide for yourself what engine size works best for you, but I tend to believe 1,000 CC engines may be a little excessive for what most outdoorsmen truly need.
If you are choosing an ORV to use exclusively in the field, an AWD or 4×4 model should be chosen. Getting your machine stuck on the backside of your property is not the least amount of fun, and it keeps you from getting work done. If nothing else, purchase a quality winch. The goal is to get work done while in the field and make it back home. It's tough to do that when it's buried in the mud. Winches also come in handy for a variety of other purposes such as removing downed trees or to control a plow, so I would definitely equip your ORV with one.
As a broker specializing in selling recreational property I have found a use for both types of vehicles. I have an ATV in an all-wheel drive (AWD) model I use when hunting and working in the field alone. However, when showing a property to prospective buyers I use my SxS which seats four people, as there may be more than one buyer. I chose a variable model that seats four riders comfortably. When converted to accommodate four riders the bed storage space is limited; however, the rear seats can fold down, expanding the bed space and seating two riders.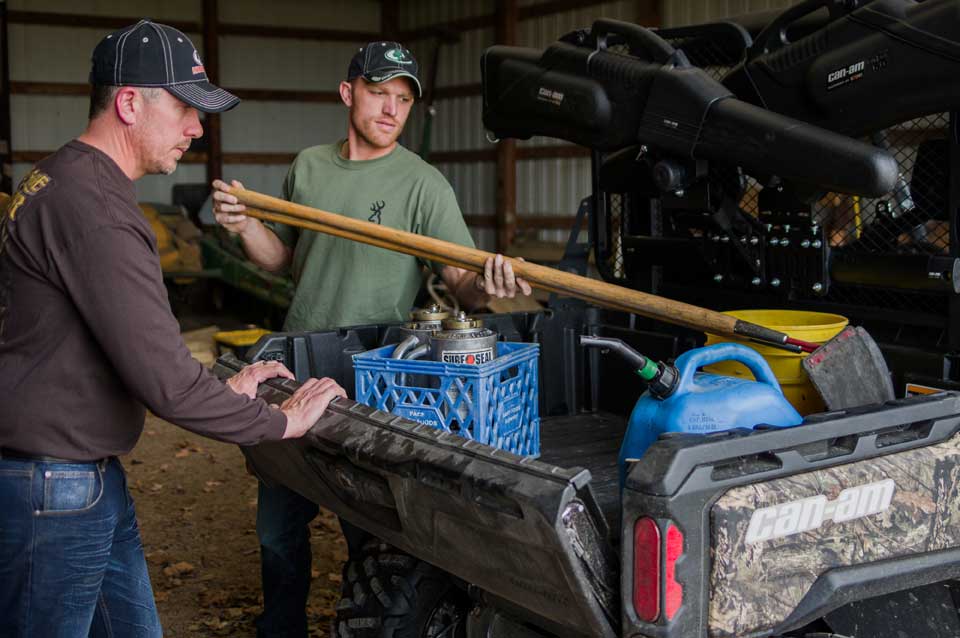 TOOL BOX FOR YOUR ATV AND SIDE-BY-SIDE
Murphy's Law states that "what can go wrong, will go wrong," which is further amplified when you're off the beaten path in the scorching summer heat or winter's numbing cold. It's inevitable that at some point something will break or need repairing while in the field. While most machines have a small tool kit that is used for basic repairs like changing the oil and spark plug, it's inadequate for anything other than minor repairs.
A set of sockets in both metric and standard is a great start. Also, a pair of channel lock pliers, needle nose pliers, a razor knife, a can of WD-40 and a hammer will get you on the road to fixing most problems. There are other tools to throw in as well such as a tire repair kit, flat head and Philips head screw drivers, a set of Allen wrenches and torx sockets. A plastic ammo can or small tool box will easily hold everything mentioned and fit onto the storage racks of an ATV or in the bed space of an SxS.
PREVENTATIVE MAINTENANCE ON ATVS AND SIDE-BY-SIDES
While we cannot predict what may break or falter while using our ORVs, we can take every precautionary measure possible to limit the chances for a breakdown. We don't simply store our guns or bows for months out of the year and then dust them off the day before we hunt with them, because we understand that practice and maintenance is necessary for flawless performance. ORVs are no different.
Make a checklist and go through it well before it's time to use your vehicle. Battery life, tire pressure, coolant fluid levels, oil and oil filters, and in newer model machines power steering fluid are all basic preventative maintenance measures that should be taken care prior to using your ORV. This should be done primarily because of your safety, but also for the simple sake of enjoying your time outdoors.
ACCESSORIES VS. NECESSITIES ON ATVS AND SIDE-BY-SIDES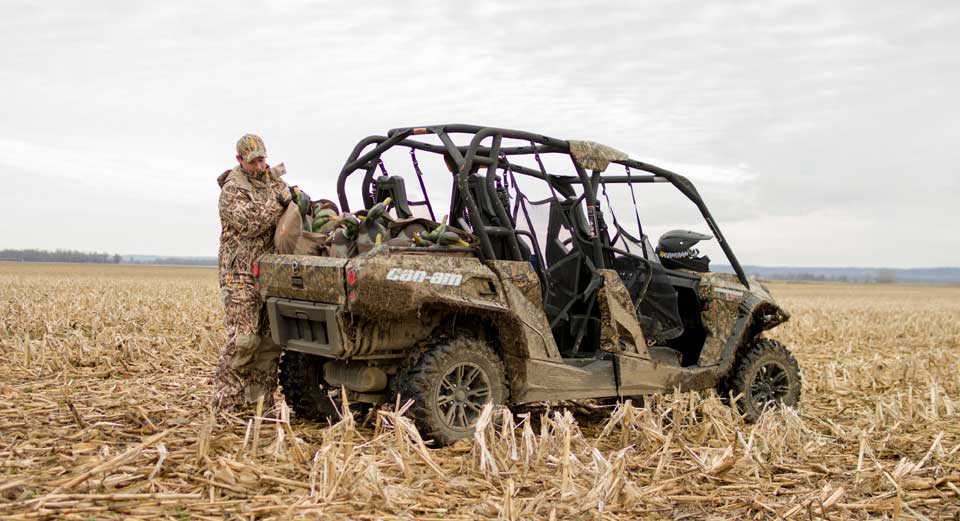 There are plenty of aftermarket accessories you can equip your vehicle with for a variety of purposes. Some are essential and some are not – from LED headlights, to bluetooth speaker systems, to heavy-duty front and rear bumpers. It doesn't matter what make or model you have, there are plenty of options.
Once again, how you use your vehicle dictates what you would need to add on, if anything. Aftermarket tires are very popular due to increased traction and improved handling. They are typically a higher ply than stock tires, which reduces the chances of tire punctures. Be cautious though, adding a tire that is too aggressive without upgrading the suspension can result in broken axles and strained engines. Switching over to a tire that is more applicable to your typical riding terrain is recommended, but sticking with the factory size tire will result in less problems without voiding any factory warranties.
Lastly, be sure to wear your protective gear when riding. No amount of fun or work is worth your life. A nice helmet is a worthy investment, along with a pair of gloves, eye protection, and a good pair of boots. We all enjoy spending time outdoors, but I think we can all agree none of us want to be injured in the field.
Choosing the right ORV is a balancing act that first requires you to determine what is necessary and what isn't. ORVs are a fantastic addition to the gamekeepers' arsenal of tools and purchasing one is no different than shopping around for your everyday vehicle. By researching manufacturers thoroughly and deciding what you will primarily use it for will allow you to make an educated decision on the best ORV for you.