Chris Hawley, Mossy Oak Properties
Back when I first began my career in the rural and recreational land market in the mid-1980s, most of the parcels of land I dealt with were best described as "one-dimensional," in that there was typically only one primary use for that property. Many agricultural tracts were not properly set up for recreational uses and vice versa. The landowners were simply not maximizing their properties!
One of the most common mistakes that people make when looking for land is not keeping diversity in mind. Many buyers have in their mind a 500-acre hardwood bottom, which is undoubtedly beautiful, but lacks the diversity necessary to enjoy the property 365 days out of the year without extensive improvements. Land is not a single-use investment, and it is important to find properties that have the versatility to provide year-round use and enjoyment.
LET THE PROPERTY DO THE TALKING
The tract of land will ultimately dictate what activities can be enjoyed there. An upland parcel of land more than likely is not conducive to waterfowl hunting without constructing lakes in the valleys and drains. Even after doing so, great duck and goose hunting may be unrealistic due to external factors, such as flyway location. So, there are a myriad of factors that come into play when sizing up what activities a parcel of dirt can support.
It is important for each buyer to categorize their intended uses for a property long before ever setting foot on it. Too many buyers get wrapped up in the beauty of a tract and fail to keep their wants and needs in mind. Land is a long-term investment, so it is wise not to make a knee-jerk reaction.
Once you know what your priorities are, and have set foot on the property, it is time to sit down and cross-check to see how well the property fits your goals. For example, if you have an interest in having a large dove field, is there enough open land to support one? Sometimes it may take conferring with an outside consultant, such as a forester or wildlife biologist, to get a clear picture on how well the property fits your needs.
HUNTING CAPABILITIES
Hunting is still, no matter how you slice it, king in terms of recreational land use. Over 20 million people in the United States escape to the outdoors each year for hunting purposes. The problem most first-time land buyers make is not considering the number of hunting-based uses a tract may have. They know what their top two or three favorite types of game are, but they fail to see other varieties of game animals as a way to pass the time between their preferred seasons. Dove hunting is a prime example. Because most dove seasons come in before the majority of the fall and winter seasons do, they provide a great way to enjoy your property and sharpen your wing-shooting abilities. Plus, dove hunting is a great "social" sport, meaning you can invite a larger number of people to hunt with you than a deer or turkey hunt. Dove fields are not going to be successful everywhere, but if there are doves present on a property, they give a landowner another way to enjoy his or her place. Predator hunting or trapping can be a fun and exciting way to pass the time and help the desirable forms of game on your property survive. There are a multitude ways to "hunt 365"; it simply depends on the tract of land and the person that hunts it.
The key to having a number of different hunting opportunities on a tract falls back on the diversity of the tract itself. The tract needs to have a healthy mix of open land and cover. It is hard to say exactly what the ideal ratio should be of open land to cover because the buyers' hunting preferences may dictate that. The key is to find a property that is "flexible," in that it possesses the soils to grow a number of crops or timber if need be to achieve your management goals upon buying. One way to research this is by looking at a soils map of the property. The local NRCS offices carry these, and they may be able to assist you in determining the soil productivity on the tract.
WATER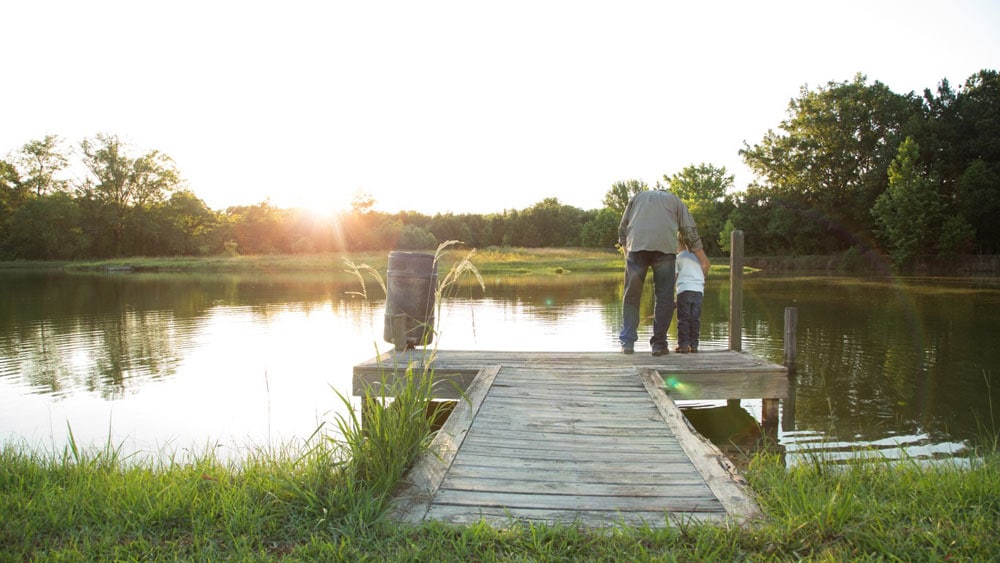 Water is a very important part of our lives, as we depend on it to survive. A tract of land that has water on it may also have a multitude of uses. Waterfowl may use the water sources as a wintering ground, which could provide an exciting hunting avenue.

Additionally, the ability to fish on a tract of land can add value by giving the landowner another way to enjoy his property, especially during the off-season. I make sure when I look at a tract of land that I identify any potential lake sites or assess the current ponds or lakes on the property. If there is a river or stream on the property, I want to make sure that there is available access to that water source. If high banks are present it may make it very difficult to put in a boat to fish the river or creek.
Water is not limited to simply fishing enjoyment. Many landowners may pass the "dog days of summer" by using the lakes on a property for swimming or canoeing. It really depends on the lake itself to determine whether it is suitable for doing so. If the lake is wooded on its banks, it may be home to poisonous snakes, which could ruin a nice summer day with a trip to the hospital!
Overall, the recreational aspect that water gives a property is very diverse. It is important to remember that in any part of the country, it is crucial for a tract of land to have enough water to support the wildlife on that property. Water rights may sometimes be held separate from the bundle of rights conveyed with a parcel of land, especially in the western United States, so be sure before purchasing a property that you have a clear understanding of the water situation on the property.
MORE USES
The list of activities that a piece of property can sustain or offer could go on and on for days. It simply comes down to the landowner being creative and passionate enough to participate in those activities. Many people have started building sporting clay courses on their property for many of the same reasons as dove hunting, to brush up on their shooting skills while having fun. The courses I have seen range from very simple and inexpensive to lavish, but all of them offer the same amount of enjoyment and shooting practice. Rifle or archery ranges serve the same purpose, and are a great deal of fun, especially during the summer months when you get the "fall itch" and start thinking about deer season!
LAND 365
Land is the most valuable and versatile investment that a person can make. The different numbers of uses that a tract of land can have are limited only by the tract itself and the imagination of the buyer. Additionally, the diversity that a tract has will ultimately increase the value of the tract should you decide to sell the property. By keeping in mind your priorities, and looking long term, you can create a strong investment and a place in rural America to enjoy 365 days a year.
About the Author: Chris Hawley, CEO/President of Mossy Oak Properties, along with Toxey Haas, began Mossy Oak Properties with the vision of bringing outdoorsmen and great outdoor properties together. Mossy Oak Properties specializes in helping buyers turn their wildlife dreams into reality. For more information, visit their website at www.mossyoakproperties.com.